First General Meeting Tuesday September 9th at 6:30pm

Come and check out the first PTA General Membership of the year.  Here's an idea of topics that will be discussed.
Reports by the Treasurer, Principal, Teachers, and certain committees.
Final Approval for Marque (has changed in appearance) and Budget
School Bond
Book Fair
Open Positions which include but not excluded to: Spring dance, Spring Fundraiser, Walkathon Committees, etc.
New Historian: Amanda Stanbro
MINIMUM DAY ON THURSDAY!!!!
Please remember Thursday is a minimum day and your child needs to be picked up by 11:35am unless they go to daycare. There will be no one hour child care.
BACK TO SCHOOL NIGHT
It's that time of year again! Thursday, September 11th is Back to School Night. The KA-3rd grade parents will meet in the Multi at 6:15. There will be a short welcome and introduction of teachers. You will then be dismissed to go to your child's classroom to listen to their teachers presentation.
Parents of students in 4th -6th grade will meet in the Multi at 7:15 again for an introduction of teachers and a brief welcome from Mrs. Olmsted. Parents will remain in the Multi to hear the 4th-6th grade team of teachers talk about their exciting plans for collaboration this year.
Picture Day
Picture Day is Thursday, September 18th at Proctor! Smile!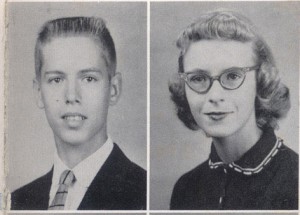 Walkathon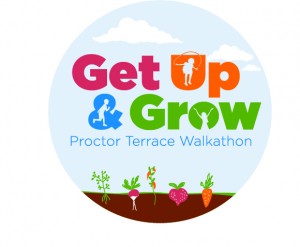 Our Walkathon is coming up and all the information packet and permission slip(s) will be coming home on Wednesday.  Be ahead of the game by checking out the website site to find all the printable forms.  Click here to start.  Any questions? Try the FAQs page here.
Volunteers for committees and for day of the Walkathon also are needed!  Sign up here to help on the day of.   The Walkathon committee needs someone to track finances, help find prizes, collect permission slips and track who needs to turn them in, pre-order bracelets, counting donations, and putting in the numbers of laps per student to determine who did the most per grade. Our next meeting is at 230 in room 19 on Monday morning.  Any other questions or to get more involved contact Amanda Stanbro at amandastanbro@gmail.com
After-School Programs starting soon!
For questions, please contact Kathy Doig, After-School Programs Coordinator
skdoig@sonic.net or 707-545-7691
1) SPANISH: Disfruta (The Language Truck) returns for another session of Spanish beginning on Sept. 17th.
Classes will be offered for K-2nd graders on Wednesdays and 3rd-6th graders on Thursdays.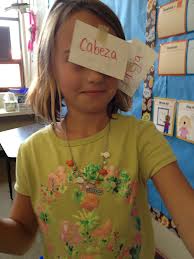 To register: www.languagetruck.com/disfruta-pte.html
2) SCIENCE: KidScience begins on Thursday, October 16th for 6 weeks, grades 1-6
Flyers will be coming home soon.
3) PIANO: Move Over Mozart: Piano lessons, begins on Thursday, October 2nd, grades K-6th
Contact Lynn Fleck for more info: 707-824-0307 www.mozartpianolearning.com
Coming soon: Direction 5 Cooking Classes and in January: Lego FUNdamentals + Robotics
Walk and Roll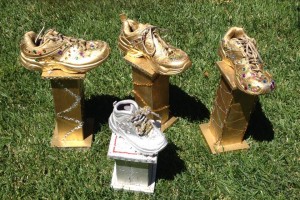 Walk and Roll Wednesdays are off to a fantastic start! Our first W&R Wednesday was Sept. 3, and it was awesome! Enthusiastic 6th grade volunteers from Mrs. Hiatt's and Mrs. Lyon's classes sported the stylin' orange shirts, and along with PT the Tiger (!!), greeted Walkers and Rollers with fun promotional materials provided to us by Safe Routes to School. And yes, Mrs. Olmsted DID walk to school. Our principal rocks!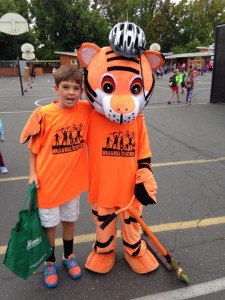 Last week's Golden Sneaker Award winners were Mrs. Millea's Kindergarten (100% participation!! whoo hoo!), Mrs. Gude-Dunbar's class, and Mr. Swedenborg's class. But the whole school did great, as we had 69% participation school-wide!
Walk and Roll Wednesday will happen EVERY Wednesday, and each week the Golden Sneakers are up for grabs for the classrooms with the highest percentage of participation. Go Tigers!