Many wonderful After-School Programs are starting up at Proctor Terrace this school year.  No need to drive all over town for fun and quality activities!
2018 – 2019 ENRICHMENT PROGRAMS: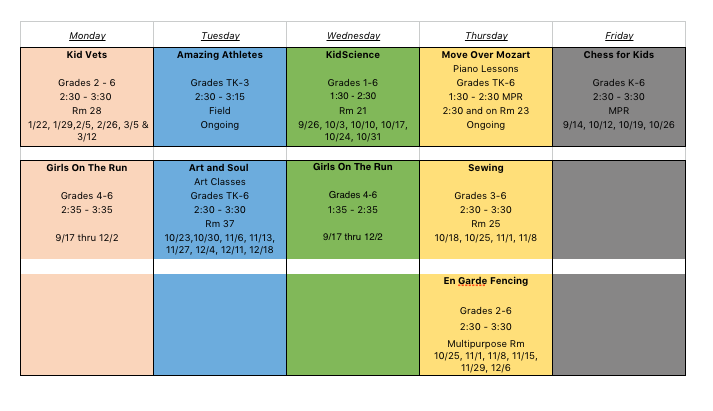 Mondays:
KidVets http://kidvets.net/enroll-now
Girls on the Run Grades 3-6 Mondays and Wednesdays. More information here: gotrsonomacounty.org.
Tuesdays:
Amazing Athletes, AmazingAthletes.com/sonomanapa
Art and Soul, Art Classes, info@artandsoulmusic.com, www.ArtandSoulMusic.com
Wednesdays:
New KidScience Session Starting:  Nov 7, 14, 28,  Dec 5, 12, (19, class early min day.)  KidScienceAdventures.com
Yoga for Kids
1:35 to 2:30
$55 / 4 weeks
April 3 – 24
Students learn yoga & mindfulness in fun, creative ways including a craft!
Email Susan at srleslie@live.com to reserve a spot
Meet in the Multipurpose room
Thursdays:
KidVets: Will return in Fall 2019!
Email: pamwittenberg@kidvets.net 
Move Over Mozart piano lessons offered for grades K-6. For more information or to register, please call Lynn Fleck at 824-0307 or visit MozartPianoLearning.com
Sewing Class 10/18 – 11/8  Lillian Wills at littlered95407@yahoo.com
Fencing 10/25 – 12/8 Register Here: https://egfencing.com/
Fridays:
Chess for Kids, Jolie Cook, joliechessforkids@gmail.com, 707.540.1831, www.chessclubforkids.com
Coming in January:
Cooking!
---
Thank you!
CARRIE BISBEE, After School Enrichment Coordinator 
---