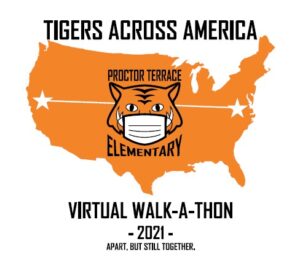 Tigers Across America
Virtual Walk-a-Thon
April 19 – May 3
Watch our Teachers tell you about Walk-a-Thon!
Walk-a-Thon Info Flyer (English & Espanol)
Organized Fitness Day – Saturday, May 1st!
10am-1pm
NEW ROUTES for May 1st! 4 Neighborhood routes, or make your own!
Start at Proctor Terrace – maps will be available on the Chain Link fence, on Grosse Dr., by the field.
Click Here for PRINTABLE Maps
Follow the colored markers for your chosen route!
Make it fun. Wear a costume! Or your Tiger Togs to show school spirit. Bring bubbles or chalk to draw along your way!
Wear a mask. Stay socially distanced.
Follow all rules of the road, obey signs and signals. Routes will not be monitored, so make sure you go with an adult.
Swing by 2023 Siesta Lane after you are done – for a treat and prize!
---
What is a Virtual Walk-a-Thon? A chance for fun and fitness for our students and
fundraising for our school! Let's get off of those screens, away from Zooms and get
moving. Apart, but still together.
Register Now: Register your child on the Get Movin' platform! (We also used this for Read-a-Thon and last year's Walk-A-Thon) URL: getmovinfundhub.com/register SCHOOL ID: 5d6fd8f36d697
Proctor Terrace students will log walking, running or fitness minutes for the duration of
the Virtual Walk-a-Thon, working collectively to walk across America, while friends and
family will have the opportunity to pledge financial support.
A Walk-a-Thon t-shirt will be provided to every Proctor Terrace student. And other prizes will be awarded!
Attend an organized fitness day on Saturday, April 24th and/or May 1st. Students will choose a mapped route around the school neighborhood to follow and enjoy fun prizes at the end!
Fundraising is appreciated, but not required. With the cancellation of most of our 2020
and 2021 fundraisers, Proctor Terrace would benefit from any fundraising efforts you
are comfortable with, but our priority is to encourage the kids to participate, get
moving and continue to feel connected to classmates and our incredible Proctor
community.