Art Docents are collaborating with teachers on a Virtual Art Show to encourage students to create mixed paper "Self Portraits In A Pandemic". A video art lesson and materials have been distributed to teachers. Deadline to return Art Work: Thursday, April 8th.
Virtual Art Show (and sale!).
Parents will have the ability to purchase the framed original artwork during our Virtual Art Show May 3 – 12. Grandparents and extended family and friends may purchase a Reproduction, which is a high quality color copy that will also be framed. All unsold Artwork will be returned to the students.
Here are a few samples created by Proctor students: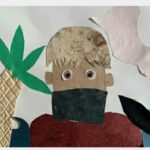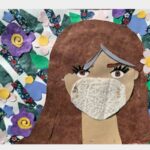 FAQ
Why an Art Show & Sale? In previous years, we highlighted student art work developed with our Art Docents during an in-person art show. This virtual Art Show gives students an opportunity to create and share their artwork with family and friends, as well as selling the student art as a fundraiser for Proctor.
Do we need to use the special art paper? Students do not have to use the paper provided but they do need to create their self portrait on a 9″ x 12″ piece of paper. Doing a mixed paper self portrait is a fun and different medium for our students, but drawn or painted self portraits on 9″ x 12″ paper are also accepted.
Is this mandatory? We would love full participation in order to make the Art Show a screaming success! Please encourage all children to create a mixed paper self portrait.
What size will the framed art be? The frame size for the artwork is 17.25″ x 14.375″.
What happens to the original artwork? Original Art is reserved for the parents, and will be professionally framed if a parent purchases. If buyer is other than the parent, a high quality reproduction is sold. All original unsold artwork is returned to the student.
When will the framed art arrive? We have timed the sale to end May 12 so the artwork arrives before school is out.