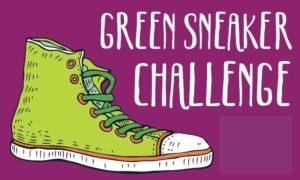 Green Sneaker Family Challenge! April 15 – May 15
Walk and Roll Fridays are on hiatus for the rest of the school year, but that doesn't mean you can't keep moving! Join the Green Sneaker Family Challenge from April 15 – May 15 and COMPETE with other FAMILIES & SCHOOLS for the most MILES, MINUTES OR STEPS! Enter for Prize Drawings!
View information packet here! English | Spanish
---
Walk and Roll
At Proctor Terrace we encourage all students to Walk or Roll to school each Friday. Our school has one of the highest participation rates in the county! We offer a much-competed-for weekly Golden Sneaker Award. The class within each of three grade groups (K/1, 2/3, 4/5/6) with the highest level of participation on Walk & Roll Fridays wins The Sneaker each week. Some months we award additional prizes to our walker/rollers. All participants, not just the winners, benefit from the satisfaction of self-propelling to school, reducing traffic congestion and air pollution, and a healthy start to their day.
Thank you for Walking, Biking and Carpooling with us during International Walk & Roll Day on October 2nd!
We all had a great time and got a little Press Democrat coverage too.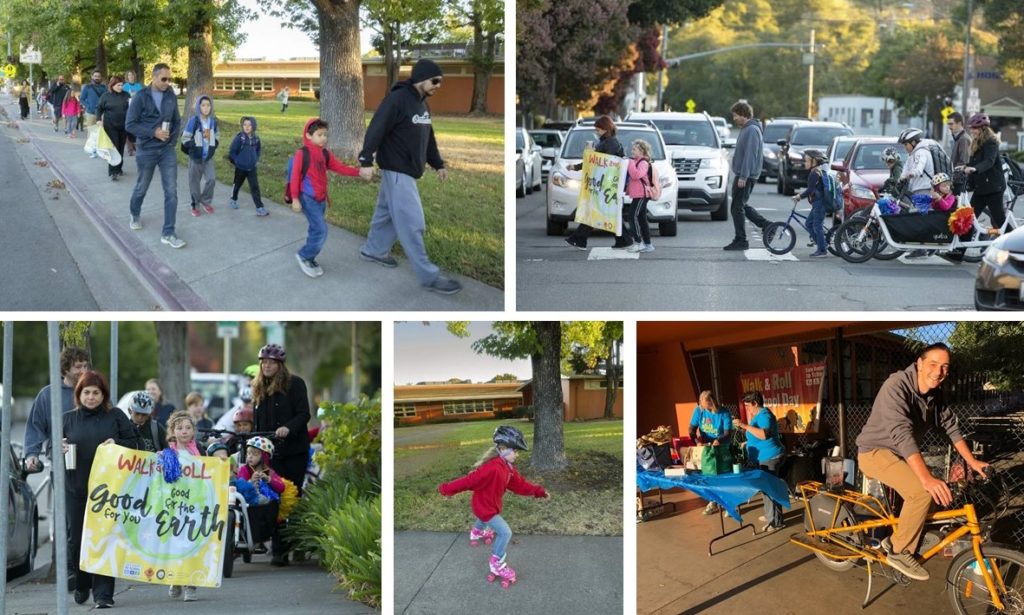 Proctor Terrace Safe Routes to School
More info on Safe Routes to School
Speaking of healthy, did you know that:
Since the average Proctor Terrace parent was an elementary school student, the # of children walking to school has dropped from 71% to 18%?
A child who lives 1 mile from school could burn 5 lbs of body fat per year, just by walking to & from school everyday?
Since 1963, the rate of obesity has increased from 4% to 16% in children ages 6-11?
The majority (75%) of California students are unable to pass basic fitness standards?
Cars transporting students to school account for 20-30% of morning traffic?
By volume, cars are responsible for 50% of the Bay Area's greenhouse gas emissions?
What else is going on with "Safe Routes to School"?
We have small groups of students gathering to walk together with an adult in our "Walking/Rolling School Buses" contact: saferroutes@bikesonoma.org
Second grade students will learn about pedestrian safety and how to become "Pollution Prevention Heroes".
Fourth grade students will learn about bicycle helmet safety, play bicycle/pedestrian jeopardy, learn how to calculate school trip emissions, and participate in a bicycle safety rodeo.
Sixth grade students will take part in a 3-5 day "street skills" bicycle course.
At the end of the year, we celebrate with a strawberry and cream party for the classes who helped cut the most carbon emissions for Earth Month.
If you would like to become more involved, email Minona Heaviland