What is Dine and Donate?
Visit great local restaurants, meet up with other Proctor families, get the night off from cooking (and cleaning up!) and support the PTA's general fund!

Epicenter Play & Donate: February 17 – February 24
Share the flyer with friends, family & coworkers! Share the Facebook Event!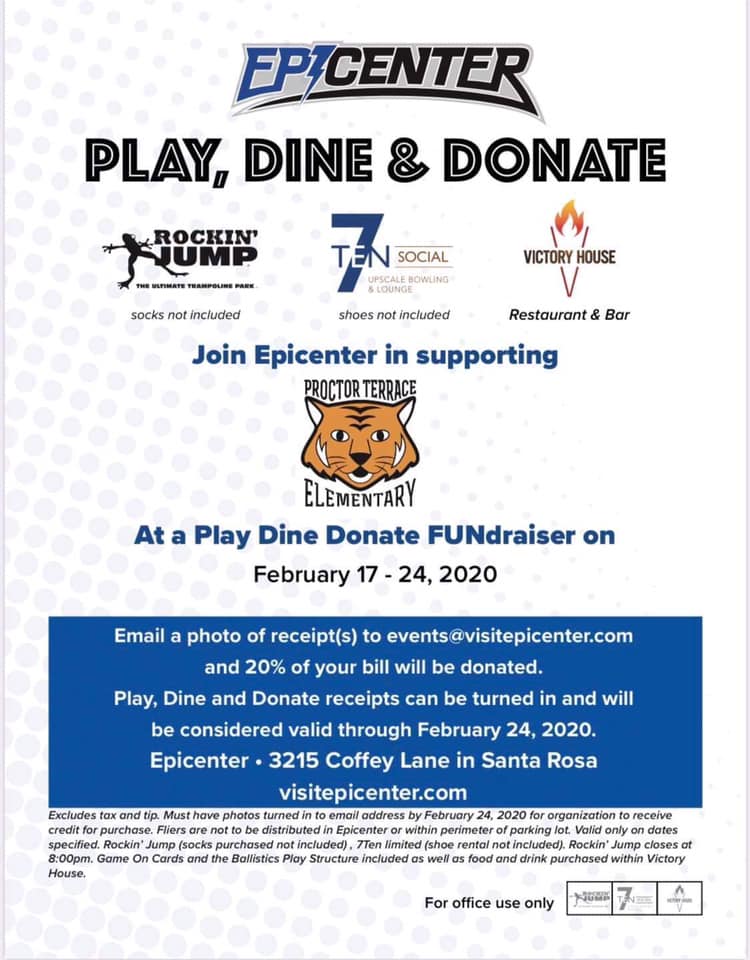 Past Events
Chipotle Coddingtown: Tuesday, October 15th. $345 RAISED!!
Mary's Pizza Shack (4th Street location): Tuesday, October 28th $92
Copperfield's Fundraising Weekend: November 1 – 3 $118
Sandy's Take & Bake: November 14 $370!
Lupe's: September $200!
Skate & Donate: Wednesday, January 29
Amy's Drive Thru Dine & Donate: Wednesday, January 29

Here's how it works:
Mark your calendar or digital calendar with the second Tuesday of each month- Dine and Donate Tuesdays! The events also appear on the master calendar located here.
Watch for the Dine and Donate banner on the fence to remind you: This Tuesday- a night out!
Either download and print a flyer, or click and carry the .pdf on your device.
Show the flyer at the restaurant when you pay the check. The restaurant will donate between 15 and 30% of your check to Proctor Terrace PTA!
It's an easy way for you to support our School!
See you there, Dining and Donating!